To celebrate the release of my book, I'm printing up some bookmarks with all-new art based on A Circle of Salt!
BOOKMARKS! (So…beautiful…)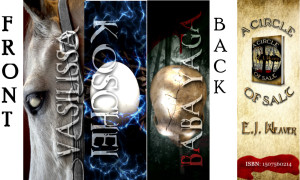 (The bookmarks and book cover art were done by Sabrina Zbasnik.)
First, you need to have a copy of my book: doesn't matter if it's digital or hard-copy.
Second: take a picture of the book (preferably, a pic of you with the book, but you don't have to be in the pic if you don't want to) and post it to me on Facebook or tweet it to Joi_The_Artist. All photos will be put here on the website so everyone can see them: be creative!
You can send in photos until midnight Pacific time on April 3. On April 4, I will choose my three favorite photos: those lucky winners will each receive a full set of 3 bookmarks. I will also do a random drawing of three photos, and each of those winners will receive 1 bookmark.
Ready, set, READ! And, um, take pictures of it! (And please consider leaving a review on Amazon and/or Goodreads!)